An Intuitive Love for Painting
Painting Florida as she sees it!
Dawn's love of surf art is obvious as you look through her galleries of paintings. Whether you are looking for an original piece of Fine Art or a print to enjoy Dawn has a unique selection sure to please the senses with color texture and beauty. To see Dawn's available prints for purchase check out her Fine Art America page . She always has originals for sale so keep an eye out for her upcoming new gallery as well. Dawn's original artwork can also be viewed at Islands Fish Grill and is available for purchase there.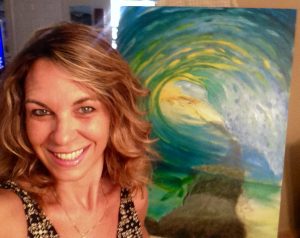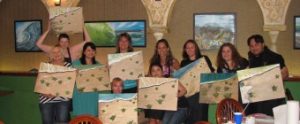 Fine Art Parties
Island Art Parties for your creative entertainment.
Dawn books private parties at Restaurants and other establishments as well as parties for corporate team building. Increase your client base and create a new exciting form of advertising your company. Book that party for a girls night in or out or even a family reunion.
---
A Passion for teaching art
Dawn Loves to guide people in creative art painting
Creativity is a means to tap into your true inner self and a good way to subdue the inner critic that evaluates everything. The inner critic is not the source of creativity. It actually quenches it and keeps it from its full potential. So I love to guide people to "let go" and enjoy their present experience making a painting. This can be very therapeutic, healing and is a great way to alleviate stress. Plus you get to marvel at the masterpiece you produce. Under my instruction you will gain a sense of self-confidence while stirring up creativity within. This can be beneficial to every aspect of our lives." ~ Dawn