Do you know how to bulk shop with little to zero waste? Have you been to the new Earth Fare grocery store in Viera, or any of the Earth Fare Markets throughout the USA, and looked at the bulk section and thought to yourself " I would love to know HOW to bulk shop!" If so, then watch the video below and let us show you how!

With such a huge plastic crisis that we have and recycling dilemma, now is the time, more than ever, to reduce our waste! Our landfills are growing and we are having to add new locations on all the time. Do you ever wonder to yourself what happens to the garbage I'm throwing into my can? I do believe if we all really watched the process and the end result we would do everything in our power to not create waste. Especially plastic waste!
When I walk into a typical grocery store it looks like a place to purchase waste. There's more packing and wrapping then there is food! There must be a different way because…..
I have made a decision to not purchase garbage!
It is not easy to purchase food without a lot of wrapping and packaging. And always plastic! It can be done and in my other videos on YouTube you can see me actually struggle and try to plastic free shop at places like Publix and Fresh Market. Which is pretty difficult but can be done! Number one rule stay off the isles!
    Items Needed to Get Ready To Bulk Shop….
How to Bulk shop zero waste. Some things you will need to take with you on your zero waste shopping trip for a family of four to Earth fare:
6 1/2 gallon mason jars holds things like oatmeal, flour, snack mixes and more.
4-6 24 oz big mouth Mason Jars these are a very practical size for things like rice, bulk peanut butter and beans. A favorite jar for me!
4 + Half pint mason jars great for bulk liquid like olive oil.
As you Bulk shop more and more you will adapt to the size jars that work best for you. There are many other size mason jars that will work for your bulk shopping needs. These are my most used sizes.
Produce Bags I use these great organic cotton mesh reusable bags for my produce.
Your own reusable grocery bags like mine. I will have some available for sale coming soon at DawnHarrell.com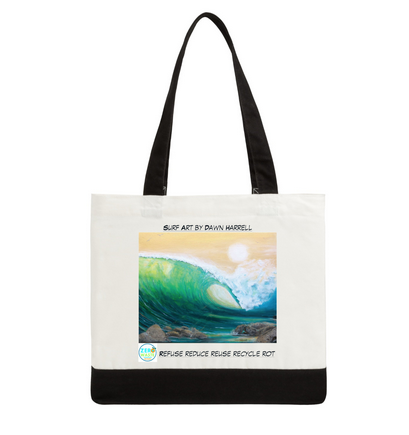 Also, I use Lock N Locks for my meat and cheese. If you dont have any containers for your meat and cheese than ask the butcher and deli to wrap your items in paper. The paper at Earth Fare can be composted for zero waste.
How to Bulk shop zero waste. Watch the Video above.